Alabama on Monday asked the U.S. Supreme Court to let it keep Republican-drawn congressional lines in place as the state continues to fight a court order to create a second district where Black voters constitute a majority or close to it.
Despite losing at the Supreme Court earlier this year in the long-running redistricting case, Alabama is pursuing another appeal, hoping for a different result with the most recent GOP version of the map. Alabama asked the justices to stay a ruling issued last week by a three-judge panel that that blocked the use of the latest GOP-drawn districts in upcoming elections and directed a court-appointed special master to propose new lines for the state.
The judges, in their ruling, said Alabama lawmakers deliberately defied their directive to create a second majority-Black district or something close to it.
JUDGES REJECT ALABAMA'S NEW CONGRESSIONAL DISTRICT MAP AFTER LAWMAKERS EXCLUDE 2ND BLACK MAJORITY DISTRICT
The Alabama attorney general's office asked justices to put the order on hold while the state appeals "so that millions of Alabama voters are not soon districted into that court-ordered racial gerrymander."
"Race-based redistricting at the expense of traditional principles bears an uncomfortable resemblance to political apartheid," the attorney general's office wrote.
Former U.S. Attorney General Eric Holder, chairman of the National Democratic Redistricting Committee, which backed one of the court challenges in Alabama, likened the state's actions to that of former segregationist Gov. George Wallace who tried to stop Black students from entering the University of Alabama in 1963.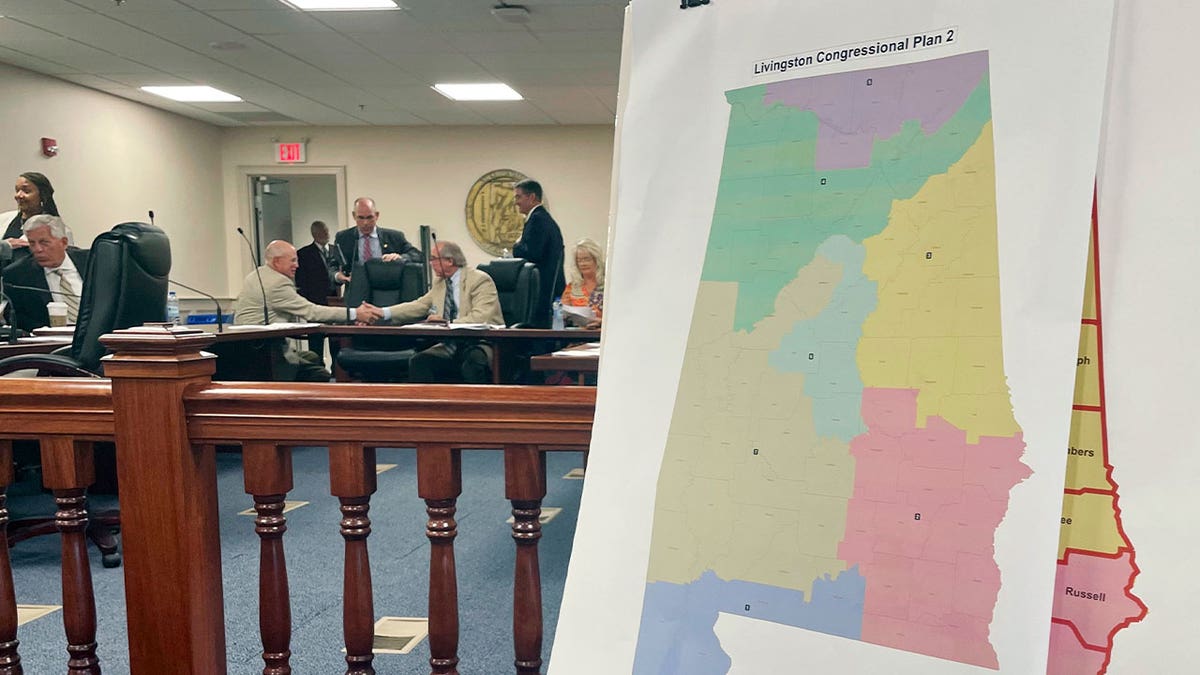 "This is a shameful and arrogant continuation of a sordid history in Alabama that denies equal rights to Black Alabamians, no matter how the United States Supreme Court rules," Holder said.
The Supreme Court in June upheld a three-judge panel's finding that Alabama's prior map — with one majority-Black district out of seven in a state that is 27% Black — likely violates the federal Voting Rights Act. The three judges said the state should have two districts where Black voters have an opportunity to elect their preferred candidates.
Alabama lawmakers in July hastily passed a new map as a remedy. However, it maintained a single majority-Black district and boosted the percentage of Black voters in another district, District 2, from about 30% to nearly 40%. The three-judge panel chided Alabama lawmakers for flouting their instruction. The panel directed a court-appointed special master to submit three proposed new maps by Sept. 25.
ALABAMA LAWMAKERS REJECT 2ND BLACK MAJORITY CONGRESSIONAL DISTRICT, INCREASE TO 40% AFTER SUPREME COURT RULING
The state's request to the Supreme Court comes after the three judges refused to put their order on hold as the state appeals. The judges said state voters should not have to endure another congressional election under an "unlawful map.
"We repeat that we are deeply troubled that the State enacted a map that the Secretary readily admits does not provide the remedy we said federal law requires. And we are disturbed by the evidence that the State delayed remedial proceedings but did not even nurture the ambition to provide that required remedy," the judges wrote Monday as they refused to stay their order.
CLICK HERE TO GET THE FOX NEWS APP
Alabama's hope for a reversal of fortune seems to at least partly hinge on persuading Justice Brett Kavanaugh to support the state's side in the latest round. Kavanaugh did not join in all of the majority opinion.
Alabama's court filing repeatedly cites Kavanaugh's concurring opinion in the case this summer. He wrote that even if race-based redistricting was allowed under the Voting Rights Act for a period of time, that "the authority to conduct race-based redistricting cannot extend indefinitely into the future."